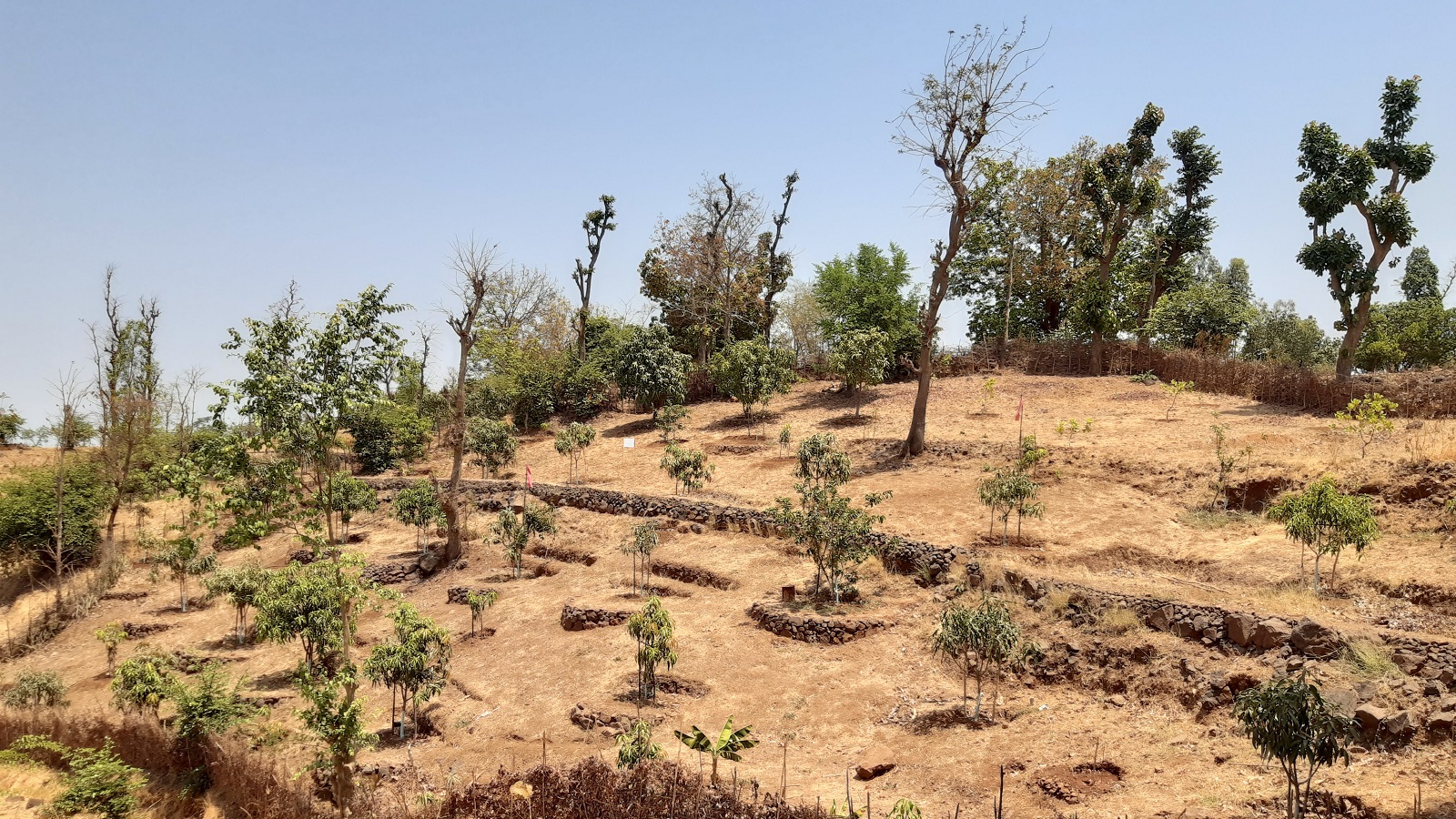 Desertification, climate change and biodiversity loss are the key problems of sustainable development. Desertification is mostly caused by land deterioration. According to estimates, 120.4 million ha of India's geographical area is degraded, of which 104.2 million ha is arable land, resulting in a loss of 5.37 to 8.4 million tonnes of soil nutrients (NAAS, 2021).
To address land deterioration and desertification, location-specific, socially acceptable, environmentally benign and cost-effective strategies need to be adopted. BAIF Development Research Foundation, an NGO working in sustainable development in 14 Indian states, has promoted the following strategies:
Wadi (Agri-Horti-Forestry System): Under this programme, fruit trees are planted as the main crops with vegetable crops and pilot-scale cash crops as intercrops on land owned by resource-poor families, for income generation, while forestry trees with multipurpose uses such as fodder, herbs, timber, NTFP and fuel wood are planted along farm boundaries. This model emphasises on the promotion of indigenous and local tree species. While the focus is on legume crops, efforts are also undertaken to identify local agro-biodiversity, purify, characterise and promote elite local landraces of main crops in the particular area.   The approximate tree density ranges from 750 to 950 trees per hectare. Site-specific appropriate soil conservation techniques and diverse organic practises such as green manuring, on-farm compost production and application and in-situ composting have helped in improving the physical and biological properties of soils.
To ensure the availability of water for consumption and protective irrigation, appropriate decentralised micro-water resources such as springs, group wells and check dams have been installed. Farmers are also organised into Farmer Producer Organisations for aggregation, processing and marketing of farm produce for value chain development. Improved quality of life of the participating families is ensured through the promotion of location-specific and need-based preventive health measures such as clean drinking water, improved nutrition, personal hygiene and sanitation and women and child health.
The Wadi programme has checked soil erosion and improved soil parameters. In addition to halting land degradation, the programme has resulted in increased livelihoods, resilience and nutrition. More than 2 lakh (0.2 million) families have adopted wadis, converting 35417 ha of degraded lands into sustainable productive assets while combating mitigation. More than 0.45 million families in 25 states have benefited from the Wadi approach adopted under the NABARD-supported Tribal Development Fund and with BAIF functioning as a Resource Support Organisation. Studies indicate that these wadis sequester roughly 23T C per ha over a period of 10 years.
Natural Resource Management: BAIF has also adopted several natural resource management and landscape development strategies. A comprehensive assessment of the current state of natural resources such as land, water and forests is followed by participatory planning and implementation of conservation and restoration measures. Based on the demand and available resources, several approaches such as watershed development, soil and water conservation, soil improvement, water management and silvipasture development have been implemented. The emphasis is on appropriate soil improvement practises such as the use of organic inputs and biochar, recycling of agricultural waste and low tillage practises. Specific measures are also adopted for the management of saline soils.
BAIF has promoted the IRESA programme, which uses cow dung to generate biogas with the resultant slurry turning into phosphate-rich organic manure (PROM) and serving as a rich source of nourishment for plants and replenishment of soils while substituting synthetic fertilisers.      
BAIF has already treated 3.6 lakh ha of land in 12 Indian states. These methods have slowed down land degradation, improved soil health and increased water availability, all of which have increased crop yield and fodder availability. This has resulted in surplus income for farmers and sustainable management of natural resources. Studies indicate that these strategies have also improved soil carbon while contributing to climate change mitigation.
These climate change mitigation strategies are ensuring the restoration of land, improving soil moisture, biodiversity, farm yields and resilience of small and marginal farmers while contributing to poverty alleviation and Nationally Determined Contributions identified by the Government of India.
Contribution to Sustainable Development Goals
Mr. Yogesh Sawant
Chief Thematic Programme Executive
Farm-based Livelihood and Climate Action
BAIF Development Research Foundation