BAIF and INRAE Partnership Consolidated 
"Namaste from France" set the tone of the process of consolidation of the more than four decades-old BAIF-INRAE association. This cordial expression by Philippe Mauguin, CEO, National Research Institute for Agriculture, Food and the Environment (INRAE), Paris, France, who along with his senior team of scientists comprising of Madame Segolene Halley Des Fontaines, Director, International Relations and Dr. Edmond Rock, Scientific Officer, visited the BAIF Central Research Station at Urulikanchan near Pune on Friday, April 21, heralded the extension of the historical alliance between the two organisations. BAIF and INRAE signed the Framework Cooperation Agreement for the purpose of setting the bases for the reinforcement of collaborative activities between BAIF and INRAE in each of the priorities, namely, Genetics/genomics of livestock and crops, Production Systems with agroecology transitions (land and water restoration, agrobiodiversity conservation, agroforestry, nature-based solutions), Environment Interface with a focus on IPM and pollination, Food security, Nutrition and Health included in a systemic approach at the food system level and Climate change (adaptation and resilience), carbon sequestration and emission-based models of land use patterns with circular use of resources. A Letter of Intent for Climate-Smart and Nutrition-Sensitive Food System and a Convention for supporting a Living Lab with focus on science and innovation were also signed.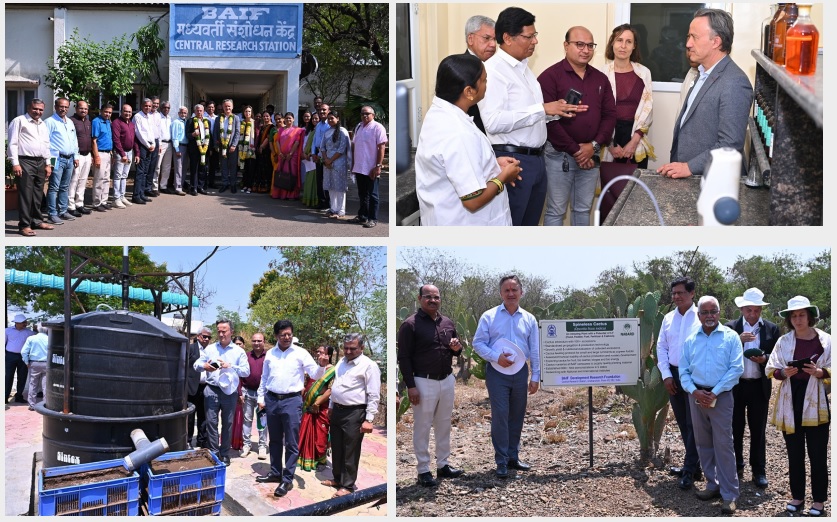 While welcoming the Delegation, Mr. Bharat Kakade, President, BAIF traced the growth of the INRAE-BAIF association and expressed that this collaboration has always been based on mutual respect and confidence that the partnership will be able to benefit small and marginal farmers in India and these were the reasons for conceiving the agreements for future extension. He also highlighted the extent of this association by quoting that more than 50 scientists from BAIF have been trained at INRAE and other research institutes in France in advancements in livestock research, more than 20 scientists from INRAE have visited BAIF for collaborative research programmes and about 60 students from French academic institutes have been hosted at BAIF for field experiences in livestock and agricultural development.
Philippe Mauguin expressed gratitude for the predecessors from INRAE and BAIF in working out possibilities for cattle management and milk improvement and which has now led to the attention on genomics. He expressed admiration for the progressive expansion of BAIF in various aspects of climate actions such as its immediate focus on reduction in enteric emission and promotion of low-carbon agriculture.
Dr. Jayant Khadse, Director – Research, BAIF, highlighted the visit of Mr. Michel Rocard, then Agriculture Minister, France, to BAIF at Urulikanchan in 1983, lunch hosted by Madame Rocard in 1989 in honour of the Founder of BAIF, Dr. Manibhai Desai in Paris, visit of Mrs. Marion Guillou, Président, INRAE in 2007, tripartite agreement between BAIF, INRA and CIRAD in 2003 in Delhi and a MoU signed between INRAE and BAIF in 2018.  
Dr. Ashok Pande, Group Vice President, (Scientific Research and Livestock Development), BAIF, stated that 12 to 13 million doses of frozen semen are produced by BAIF's state-of-the-art semen freezing laboratories of which 45% is used by BAIF in its field programmes spread across 13 states and the rest is made available for other agencies. He also highlighted the fact that the conception rate of progeny born through BAIF programme is 48% which has been achieved only due to the expertise of the field Artificial Insemination technicians and that the immediate goal was to increase the conception rate to 60%. 
The delegation visited various research facilities such as the advanced animal nutrition, genetics and genomics, semen production bank, molecular genetics laboratory, gene bank native seeds, forage research programme, sustainable agriculture and cactus research trials, Integrated Renewable Energy and Sustainable Agriculture (IRESA) model based on cow dung slurry and BIO-PROM – Phosphate Rich Organic Manure Production Unit,  Ova Pick Up and In-vitro Fertilisation, Embryo Transfer Laboratory and Sex sorted semen laboratory for ensuring production of female calves and thereby enhancing the milk yield, productivity and income of small farmers. 
Later, in the online session with BAIF teams across all the states, Mr. Kakade once again welcomed the delegates and introduced the audience comprising of senior management of BAIF from all the states and from the Head Office of BAIF in Pune to the dignitaries. Philippe Mauguin stated that on the beautiful campus of BAIF, the two organisations had come together to strengthen their partnership.  Dr. Khadse presented an overview of the research programmes being implemented at the BAIF technology development centre at Urulikanchan. Dr. Rajashree Joshi, Programme Director, BAIF highlighted the carbon sequestration effect of the agri-horti-forestry (wadi), land degradation neutrality focus of the natural resources management programme, agrobiodiversity conservation and women empowerment programmes.  Mr. Kakade also apprised the delegates about the fact that the agri-horti-forestry model has so far, covered more than 200,000 families and has been extended by NABARD to almost all the states and the NRM programme of BAIF fitted in well with the United Nations Land Degradation Neutrality parameters.  He also cited the example of the pilot effort by tribal women groups to revive interest in traditional food through the operation of food outlets.    Vision 2030 of BAIF aimed at increasing the number of families from 4 million to 10 million, through climate smart farm, non-farm, livestock, water, and new-age technological interventions, Mr. Kakade added.  Philippe Mauguin expressed confidence in the success of BAIF.
Philippe Mauguin introduced INRAE to the online audience and stated that its vision of science for people, life and earth made it not very far from BAIF.  He highlighted on the strong involvement of INRAE on innovation.  
In his concluding remarks, Mr. Kakade thanked the delegation for showing interest in the work of BAIF and reiterated the value of this partnership and the goal of ensuring benefits to the small farmers and taking knowledge even to African countries.